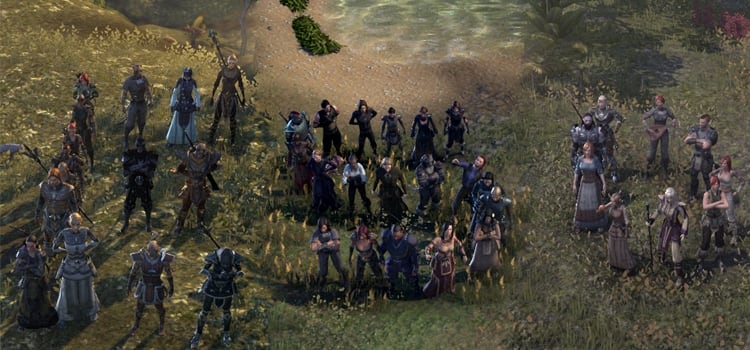 In our latest Guild Spotlight we recommend roleplayers looking for a German speaking guild have a look at "ESO-Rollenspiel."
In today's Guild Spotlight we'll meet "ESO-Rollenspiel," a guild offering roleplayers on the European megaserver a home. Their guild members are regular tavern patrons and have even published their own cookbook, and frequently engage in many different events throughout Tamriel. Sometimes they even slay monsters – but read for yourself.
Would you like to see your guild featured in a future edition as well? Just answer our interview questions in this thread. Don't forget to also include some nice screenshots showcasing your guild!
ESO-ROLLENSPIEL
"You roleplay together and for everyone, not next to or against each other."
What is your guild's name? Does that name have a special history or significance?
Our guild's name is "ESO-Rollenspiel" (which translates to "ESO Role-play") and the name says it all. The guild is a community project created by the German roleplaying community located at ESO-Rollenspiel.de. It's meant to be a central place where German-speaking roleplayers can meet and communicate with each other.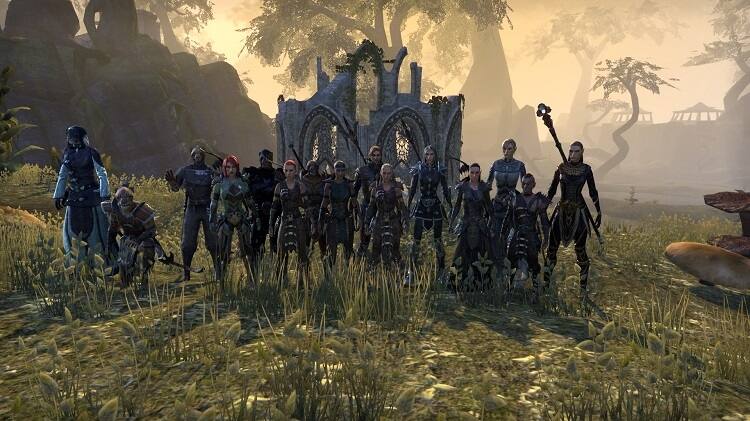 When was your guild formed? Tell us the story of how the guild came to be.
To be perfectly honest, the guild was founded even before the game's launch.
Rumors say roving reporter Viola Valerius, better known as " Viola Valerius Volkskurier" to roleplayers, travelled parts of the realms even during early beta. If the records are accurate, it was she who founded the guild back in the summer of 2013. Latest historical speculation is that the legitimate founding happened back in 2014, obviously due to the fair Viola writing her travel notes on the original founding documents, which were eventually tarnished and invalidated thanks to a huge ink spot. So Viola had to once again collect all the paperwork for a new and legitimate founding of the guild. (Malicious gossip suggests that it was the usual pre-launch server-wide wipe that forced us to found the guild once again, but we roleplayers strongly believe in the other story.)
In its founding days the guild reached the maximum possible member number of 500 players, which led to the temporary creation of auxiliary guilds in the different Alliances. After the initial flood receded, we once again concentrated on a single guild. 

What alliance has your guild sworn fealty to?
Roleplaying is a hobby, which accepts only your own fantasy as the real borders. As such, our guild covers all three alliances. The players, on the other hand, aren't as uniform. Some play in all alliances, some in two, and others focus on just one. 

Why did you choose that alliance?

Because roleplaying in Tamriel is always an appealing activity, once you open your heart to it. 

How many members does your guild currently have?

Right now we're at 440 members, so there's still some room. Some of these may no longer be active or have lower activity, while others are connected to the community through thematic guilds without being in the main guild.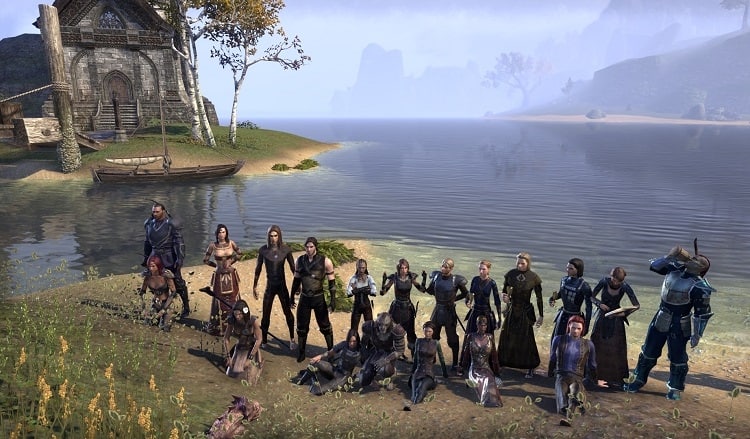 Does your guild have a website?
Of course! It can be found at www.eso-rollenspiel.de
What times and days is the guild most active?
Since even roleplayers succumb to the rules of the working world, most are usually active during the evening hours (EU time) as well as the weekends. Theoretically, the guild offers the attractive possibility to find people to play with even early in the day. 

What languages or countries do your members span?

Our main focus is on German-speaking roleplayers, so we're a mix of Germans, Austrians, Swiss, and at least one US American, using our guild to improve their knowledge of the German language. 

What activities in ESOTU do your members enjoy doing together most?
Hm ... I'll have to think on that one a bit. Though there are many possibilities, I'd almost assume that it's roleplaying! ;) 

What does your guild focus on in-game? Do your members prefer delving dungeons together, fighting for keeps in Cyrodiil, roleplaying in the taverns, crafting and trading, or a combination?

You can find players who like all manner of activities within the guild. It's also a latent trading guild. Players meet in Cyrodiil for some brawls or for major and completely non-roleplaying dungeon fights, but the main focus is still roleplaying. That's why the guild is meant for people who at least want to dabble in this hobby from time to time. However, this doesn't mean you'll be bullied or kicked if you're doing something else now and then. 

What makes your guild unique?

Through a man's stomach you won't just find love, but roleplay as well!
With those true words in mind, our guild published a cookbook last year: "Tamriels Köstlichkeiten" ("Tamriel's Delicacies") includes many tasty recipes to try. For example, how about a Stewed Boar Leg with Mead Blackberry Sauce, and Ash Potato Puree and Potato Cep Veggies rounded off with some High Rock Cloister Brew?
Is your guild part of a larger alliance of guilds? Why did you join them?
The guild is used by a number of thematic RP guilds for networking, so roleplayers can stay in contact even outside their own communities.
In contrast to the thematic RP guilds, the main guild is really just an instrument to connect German speaking roleplayers. It doesn't exist in-character. We also have roleplayers with vastly different ideas of how you should roleplay. However, it's creating a permanent medium, which allows people to connect and stay in contact—one without any recruitment requirements, forced online times, or anything similar. If you're roleplayer, just contact us and you're in!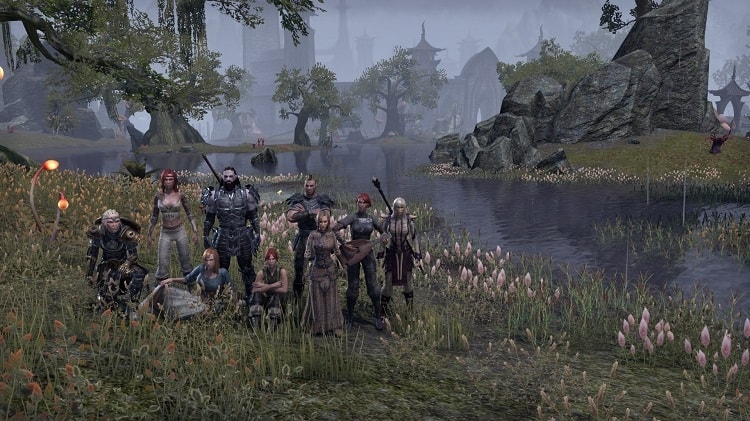 Does your guild ever host special events? If so, tell us about them!

Players always keep creating roleplay events and communicate through the guild and its forums. This could be anything—whatever the creator can imagine. Evens could be anything from a simple roleplay evenings in one of the many taverns of Tamriel, to full staffed merchant caravans and markets, to complex detective stories for everyone to join in on. Almost daily there's one or another event within our community, where new faces are always welcome of course. 

What is your favorite or most memorable moment as a guild so far in ESOTU?
All the possibilities of what you could experience within the guild are so vast and everyone's perception so individual that it's really hard to focus on just one thing. ESO-Rollenspiel is like a huge book full of maps that lead to the most strange and fantastical places, where you'll find the quirky, creepy, or even enchanting figures. There are different wonders waiting for anyone. 

Does your guild secretly (or not so secretly) follow a specific Daedric Prince? If so, which one?
Sheogorath. But don't tell anyone. If he ever finds out, he'll feel so welcome and at home that we'll never get rid of him again. 

After a long day of adventuring, where does your guild enjoy gathering to wind down?
When it is possible, we enjoy winding down in furnished housing instances. Once ZeniMax heeds our craving to finally add housing of our own we'll be there, but 'till then you can meet us pretty much everywhere. Tamriel is just so big that you'll need a guild. Usually there are always at least a few members in some of the taverns. 

Tell us five fun facts about your guild.
We're quite possibly the only guild where people regularly delete presents like Ice Wraiths or Loyal Dwarven Sphere, desperately looking for a small puppy, cat, or otherwise "normal" pet.
A big number of our members would instantly drop the most awesome and imbalanced raid/PvP item set to equip some interesting costume.
It's full of imposing and almost invincible warriors, which—measured by game mechanics—often won't get above level 6 or 8. If that happens, it's most likely because the gear looks better.
With Viola Valerius, ESO-Rollenspiel has its own "journalist." She's always on the lookout for interesting news regarding our communities (i.e. roleplaying topics) and presenting her findings to the guild in interview-style articles. In her quest for news, she has also survived one or two dicey situations.
Some players go so deep in-character that they'll start to flame about that "dammed bunch of elves" in guild chat while in Cyrodiil because their Nord just got pummeled, rage-quit, and log to their Dominion character, fluidly switching to forbidding "those pesky and immature humans" from speaking in such a voice about the Altmer queen.
If people are interested in joining your guild, who should they contact?
Through our website, www.eso-rollenspiel.de, you'll find all the necessary information as well as contacts. Otherwise just drop a message to Aquiel.